Ritchy Fuentes
Regional Manager
Asbestos is a naturally occurring mineral composed of flexible fibers that are resistant to heat, electricity and corrosion. These qualities make the mineral useful, but they also make asbestos exposure highly toxic.
Asbestos was widely used in construction as an effective insulator, and it can be added to cloth, paper, cement, plastic and other materials to make them stronger. But when asbestos dust is inhaled or ingested, the fibers can become permanently trapped in the body. Over decades, trapped asbestos fibers can cause inflammation, scarring and eventually genetic damage.
Contact Our Experts Today
Our Houston team will connect with you within 24 hours.
Tips for Safely Handling Asbestos
Some situations require the removal of asbestos-containing materials. But it may be safer to leave the materials undisturbed or encapsulate them with a sealant. Consult a certified asbestos abatement professional for the best advice.
Some jurisdictions allow homeowners to remove asbestos materials on their own. If you are considering DIY asbestos abatement, remember the following precautions:
Seal off the work area with plastic sheets and turn off the air conditioning.
Wear a respirator with a high efficiency particulate air (HEPA) filter.
Wear disposable coveralls and gloves during Asbestos work.
Use a pump sprayer to keep asbestos materials wet and suppress dust at all times.
Clean the work area with wet wipes or a vacuum cleaner with a HEPA filter.
Dispose of asbestos waste in clearly labeled bags at a landfill that can accept asbestos.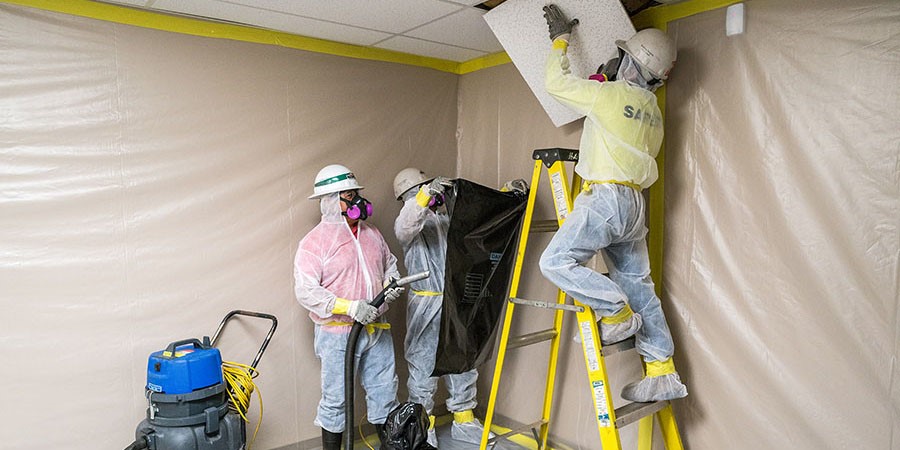 Personal Touch of a Family Company